CHECK OUT OUR TCGPLAYER
LOOKING FOR SINGLE CARDS FOR YOUR FAVORITE CARD GAME? CHECK OUT OUR TCGPLAYER PRO PAGE. IT HAS TONS OF SINGLES FROM MAGIC THE GATHERING, POKEMON, YU-GI-OH!, DRAGON BALL SUPER TCG, AND MORE!
ANIME AND MANGA!!!
WE CARRY A WIDE SELECTION OF ANIME FIGURINES SUCH AS  DRAGON BALL Z, MY HERO ACADEMIA, ONE PIECE, SWORD ART ONLINE AND MORE. OUR MANGA SELECTION IS EVER GROWING AS WELL AND HAS NEW TITLES ADDED WEEKLY. IF YOU ARE LOOKING FOR ANY GIVE US A CALL OR MESSAGE US.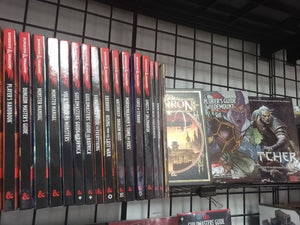 TABLE TOP RPGS
THE GROWING FAN BASE OF TABLE TOP RPGS IS INCREDIBLE. WE CARRY A WIDE SELECTION SUCH AS DUNGEONS AND DRAGONS, PATHFINDER, SHADOW RUN, CYBER PUNK, AND MANY MANY MORE. ALSO WE HOST WEEKLY EVENTS FOR DUNGEONS AND DRAGONS EVERY WEDNESDAY NIGHT AT OUR SHOP. THERE IS ALWAYS ROOM IF YOU ARE EVER INTERESTED.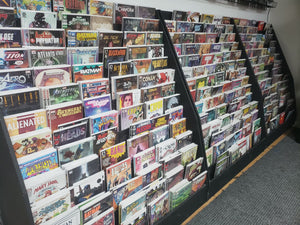 NEW WEEKLY COMICS
IF YOU WANT TO KEEP UP WITH ALL THE NEW COMICS COMING OUT FROM MARVEL, DC, OR IMAGE YOU SHOULD LOOK INTO SUBSCRIBING WITH US FOR YOUR COMIC BOOK NEEDS. YOU GET FREE BAGS AND BOARDS FOR YOUR NEW BOOKS ALONG WITH A 10% OFF ALL ITEMS IN STORE AS LONG AS YOU ARE SUBSCRIBED TO 5 ONGOING TITLES OR MORE.
Their business model has been based more on face-to-face interaction rather than simply moving merchandise

Baytown Sun
I'm in town visiting family and stopped by for New Comic Book Day.
Extremely welcoming, helpful, and friendly service!
I was treated as a usual customer and I felt at home.
All new comics come already with a bag and board (some shops don't do this so this was a nice surprise)
I definitely, highly recommend this shop!
I'll be stopping by here whenever I visit in the future!

Pedro Cantu Jr.
The place is always nice and the atmosphere is wonderful . There are weekly tournaments as well . I've never seen anyone be a bad sport and the merchandise is also good .

Katelynn Gustavus