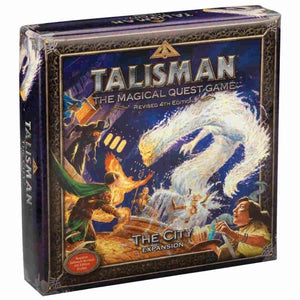 The City
 provides those who live within it a chance to pursue their lives with a modicum of safety and comfort. However, though the outside world is kept outside, any alert adventurer strolling through the City Gate will feel the tension humming in the air.
Talisman: The City Expansion
 provides players with six new characters, three alternative endings, its own deck, and a host of shops for all your questing needs. Collect bounties listed on the Wanted Posters at the City Gate and fill your pockets with gold before doing some serious spending. Secure a steed from the Stables, pick up Pets or Potions, or head to the Armoury and the Magic Emporium. Visit 
The City
 in Talisman as you compete for the Crown of Command!