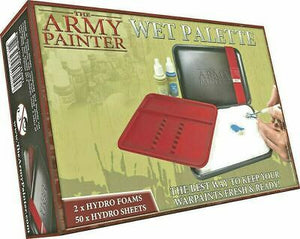 The best wet palette there is - superior quality and custom designed to keep your Warpaints preserved perfectly smooth and creamy! The 
Wet Palette
 comes with 2 sheets of hydro foam and 50 hydro sheets. Special inner layer design can hold up to 6 Wargamer brushes and 10 Hobby brushes from The Army Painter range.
• SUPERIOR QUALITY TOOL FOR ANY WARGAMER
• STORES YOUR BRUSHES SAFELY
• KEEPS YOUR PAINT FRESH & READY !
The Army Painter 
Wet Palette
, premium brush storing palette with 50 Hydro Sheets and 2 Hydro Foams for Wargames Miniature Model Painting KEEPS YOUR PAINTS READY - Whether you use paints straight out of the bottle, or you mix a lot, this handy wet palette will keep your paints fresh for days. STYLISH AND HANDY - The Army Painter 
Wet Palette
 is probably the coolest wet palette out there. Produced in sleek black and burgundy plastic with a superb elastic safety band, the wet palette measures 20x14x3.5cm, is easy to bring along, and the supplied safety strap ensures that everything stays neat and tidy.
BRUSH STORAGE - Designed to keep 6 The Army Painter Wargamer Brushes, 10 Hobby Brushes and more, this Wet Palette is perfect for storing your most used brushes with your paints - ready for use.
EXTRAS INCLUDED - The Wet Palette comes with 2 hydro sponges and a hefty 50 hydro sheets, allowing you use for a very long time.
FOR BEGINNERS AND VETERANS ALIKE - The Wet Palette has a place in the arsenal of any Warhammer 40,000, Warhammer Age of Sigmar and Dungeons and Dragons miniatures painter. Whether new to the hobby or a veteran with many painting hours beneath the belt, this tool for keeping paints from drying out is sure to be a stable in any painter's workspace.