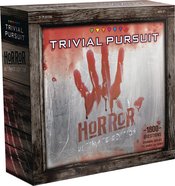 There's no turning back from
Trivial Pursuit: Horror Ultimate Edition!
Explore the darkest corners of pop culture in this fact-based challenge where survival skills are a must! 1800 blood-curdling questions from across all horror genres will test your mastery of the macabre. Rely on your skill and luck to make it out alive through six comprehensive categories: Gore & Disturbing, Psychological, Killer, Monster, Paranormal, and Comedy.