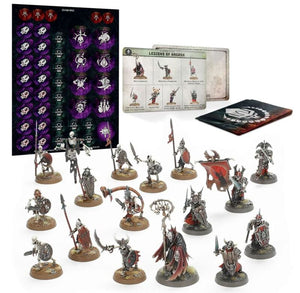 The armies of Nagash are vast and multifarious, filled with all manner of undead horrors. At the command of their dread master they rise from shallow graves, seeking to overwhelm the living in a relentless tide.
Rise up and drag the living down to their doom with the Legions of Nagash! This warband set allows you to field these undying servants of the Supreme Lord of Undeath in your battles,
containing:
- 16 multipart plastic Legions of Nagash miniatures – 1 Necromancer, 5 Grave Guard, and 10 Skeleton Warriors
- A Legions of Nagash abilities card, allowing you to unleash the distinctive and deadly battle tactics of this warband in your games
- 7 fighter cards for seeing your rules at a glance, plus divider cards for tracking your tokens
What's more, these warriors are available for use in your Legions of Nagash Warhammer Age of Sigmar army thanks to a free warscroll available in the Downloads tab.
This set is supplied with 1x Citadel 32mm Round Base and 15x Citadel 25mm Round Bases.